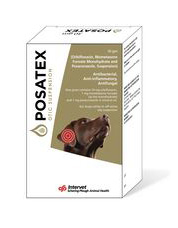 Posatex is for the treatment of acute otitis externa and acute exacerbations of recurrent otitis externa, associated with bacteria susceptible to orbifloxacin and fungi susceptible to posaconazole, in particular Malassezia pachydermatis.
Posatex contains 8.5 mg/ml orbifloxacin, 0.9 mg/ml mometasone furoate (as monohydrate) and 0.9 mg/ml posaconazole and is indicated for the treatment of otitis externa.
For uses, dosage, contra-indications and warnings please consult product leaflet. Further information is available on request. Use medicines responsibly.
Legal Category
POM
Packaging quantities
Cartons containing bottles of 17.5 ml or 35.1 ml. Not all pack sizes may be marketed.
Datasheet
For Summary of Product Characteristics click on this link.