Responsibility and integrity

At MSD Animal Health we believe our responsibilities to wider society extend beyond our primary goals as a business. We are committed to raising standards and to adding value wherever we can — in the food chain, for the animals which benefit from our products and, on a broader level, to the environment and wider society as a whole. We strive to conduct our business in such a way as to maximize its social, environmental and economic benefits and encourage our employees to apply these fundamental principles in all aspects of their professional lives.
MSD Animal Health is involved in a number of areas where we believe we can contribute to improving people's lives and the world we live in. We focus on areas in which our scientific expertise, products and people can really make a difference to everyday lives and to raising professional standards.
Irish Guide Dogs for the Blind
MSD Animal Health proudly support Irish Guide Dogs for the Blind, and provide around 240 dogs in the Volunteer Breeding Programme, Volunteer Puppy Raising Programme and the Training Programme with Nobivac vaccines, and Bravecto flea and tick treatment each year.
Irish Guide Dogs for the Blind is Ireland's national charity dedicated to helping people who are visually impaired and families of children with autism to achieve improved mobility and independence.
MSD Animal Health is proud to partner with Irish Guide Dogs for the Blind and collaborate with their own veterinary practitioners in supporting the health and wellbeing of these very special dogs. The first years of life are crucial in preparing them their future role, and a full bill of health is essential in supporting them during their training and development period. For further information on the Irish Guide Dogs for the Blind please visit https://guidedogs.ie/.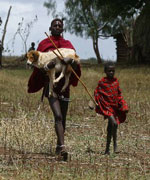 The 'Afya Serengeti' project -Tanzania
Our commitment to the 'Afya Serengeti' project, which means 'health of Serengeti' in Swahili, continues unabated. Each year we donate thousands of doses of rabies vaccine to the project to support the ongoing preventative campaign to combat rabies among the domestic dog population in the Serengeti. This, in turn, has reaped tremendous benefits, both for humans by reducing the incidence of rabid dog bites and for wildlife. Latest research reveals the resurgence of the African wild dog population – a species that was close to extinction – within the Serengeti National Park.
In 2019, MSD Animal Health was proud to announce a milestone accomplishment in the fight against rabies with the donation of a cumulative three million doses of the company's NOBIVAC® rabies vaccine. For more than 20 years, the company has made a commitment to work to eliminate rabies by supporting research on rabies control, mass canine vaccination in high-risk regions of the world where much-needed vaccination is often inaccessible and education initiatives to raise awareness in high-risk regions, such as India and Malawi.
Rabies, is one of the oldest and deadliest diseases on earth, with a 99.9 percent fatality rate. Known as a zoonotic disease, rabies is transmitted from animals to humans, and 99 percent of human cases are the result of rabid dog bites. In the at-risk parts of Africa and India and other regions, mass annual canine vaccination, reaching at least 70 percent of dogs, has been a proven, effective way to eliminate the disease in both animals and humans.
Each year, approximately 59,000 people die from rabies – a completely preventable disease. As a company, we are deeply entrenched in the fight to prevent these needless deaths through our legacy of partnership with organizations, such as Mission Rabies and Rabies Free Africa, and veterinarians, to support education and prevention through robust canine vaccination programs. For more information please visit http://www.afya.org/default.aspx.