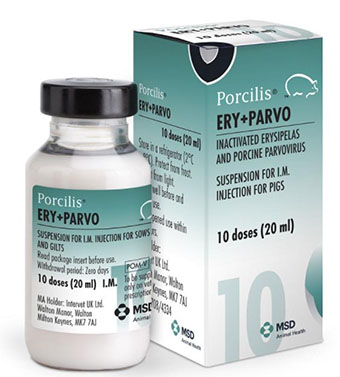 An inactivated vaccine against erysipelas and parvovirus infection for use in pigs. This product may only be prescribed by your veterinary practitioner from whom advice should be sought.
Product Information for Users
Ery+Parvo is an inactivated vaccine containing at least 1 ppd Erysipelothrix rhusiopathiae antigen, strain M2 (serotype 2) and Porcine parvovirus (PPV) strain 014 ≥ 552 EU per dose (as determined in the final product antigenic mass ELISA) in an aqueous adjuvant. The vaccine also contains 150 mg dl-α tocopherol per dose.
This vaccine is for the active immunisation of sows and gilts as an aid in the control of swine erysipelas and for the protection of embryos and foetuses against porcine parvovirus infection.
For uses, dosage, contra-indications and warnings please consult product leaflet. Further information is available on request. Use medicines responsibly.
Legal category
LM
Packaging Quantities
Multidose vials containing 10, 25, 50 or 125 doses.
Summary of Product Characteristics
For Summary of Product Characteristics, first click on this link. Then scroll down to Documents section. Subsequently click on PDF version on line opposite Summary of Product Characteristics.