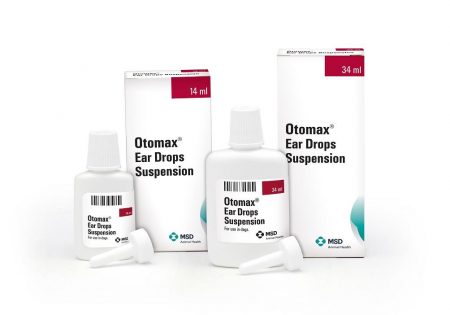 Otomax ear drops suspension is a white opaque liquid ointment. Each ml contains gentamicin sulfate equivalent to 2640 IU gentamicin base, betamethasone valerate equivalent to 0.88mg betamethasone and 8.80mg clotrimazole.
Product Information for Veterinary Healthcare Professionals
For the treatment of acute external otitis in the dog. Also for treatment of short term exacerbation of the acute signs of chronic external otitis of bacterial and fungal origin due to bacteria susceptible to gentamicin, such as Staphylococcus intermedius, and fungi susceptible to clotrimazole, in particular Malassezia pachydermatis.
Responsible use of Antibiotics
One of the ingredients in Otomax is an antibiotic (gentamicin). When used correctly, antibiotics have an important role by maintaining health and welfare of animals. However, there are concerns that resistance or resistant bacteria could be transferred from animal to human health, and vice versa, and reduce the effectiveness of some antibiotic treatments. It is vital that antibiotics are used in the correct and appropriate manner to minimise this possibility.
MSD Animal Health supports the responsible use of antibiotics.
For more information please refer to Ireland's National Action Plan for Antimicrobial Resistance on www.agriculture.gov.ie.
For uses, dosage, contra-indications and warnings please consult product leaflet. Further information is available on request. Use medicines responsibly.
Legal Category
POM
Packaging Quantities
Box containing 1 plastic bottle of 14 ml.Box containing 1 plastic bottle of 34 ml.
Summary of Product Characteristics
For Summary of Product Characteristics, first click on this link. Then scroll down to Documents section. Subsequently click on PDF version on line opposite Summary of Product Characteristics.