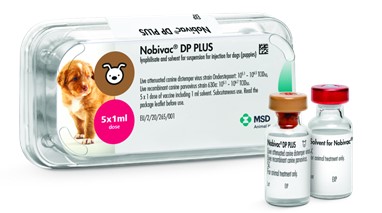 A live vaccine for use in dogs against distemper and parvovirosis. This product may only be prescribed by a veterinary practitioner from whom advice must be sought.
Product information for Veterinary Healthcare Professionals
Nobivac DP PLUS contains live, attenuated, freeze dried canine distemper virus and a novel strain of canine parvovirus. The vaccine contains attenuated antigens to stimulate active immunity in dogs against canine distemper and canine parvovirus and is recommended for use in puppies from four weeks old. This is the first vaccine introduced to the Irish market that is not affected by the presence of maternally derived antibodies against canine parvovirus.
For uses, dosage, contra-indications and warnings please consult product leaflet. Further information is available on request. Use medicines responsibly.
Legal Category
POM
Packaging Quantities
Nobivac DP PLUS may be presented in cartons containing 5, 10, 25 or 50 single dose vials. Nobivac Solvent may be packed together with the vaccine or separately. Not all pack sizes may be marketed.
Summary of Product Characteristics
For Summary of Product Characteristics, please click on this link.