An antibiotic intramammary cerate containing cephapirin and prednisolone for use in lactating cows. This product may only be prescribed by your local veterinary practitioner from whom advice must be sought.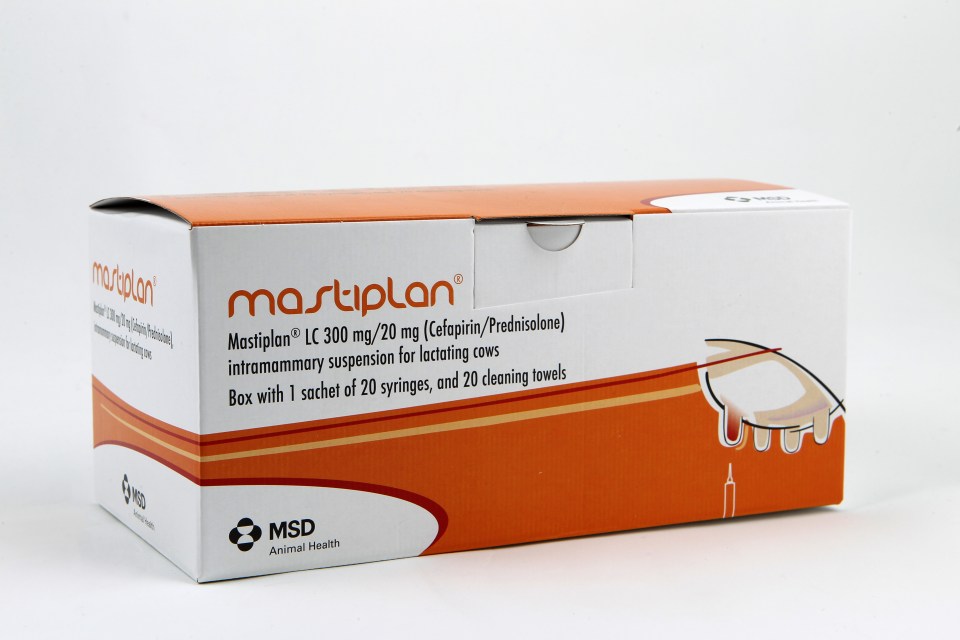 Product Information for Veterinary Healthcare Professionals
Mastiplan LC contains 300mg cefapirin and 20mg prednisolone. As a result of trials to show the optimum anti-inflammatory effect, Mastiplan LC has between 2 and 4 times the prednisolone of traditional prednisolone containing LC tubes. Combined with the modern cephalosporin antibiotic, cefapirin, the resultant effect is a long acting treatment against all the common mastitis pathogens with rapid visible relief of symptoms.
Each 10ml syringe of Mastiplan LC should be infused into each affected quarter via the teat canal, immediately after milking, at 12 hour intervals for four consecutive milkings. Milk should be withdrawn for 132 hours after the last treatment.
For uses, dosage, contra-indications and warnings please consult product leaflet. Further information is available on request. Use medicines responsibly.
Responsible use of Antibiotics
When used correctly, antibiotics have an important role by maintaining health and welfare of animals. However, there are concerns that resistance or resistant bacteria could be transferred from animal to human health, and vice versa, and reduce the effectiveness of some antibiotic treatments. It is vital that antibiotics are used in the correct and appropriate manner to minimise this possibility.
MSD Animal Health supports the responsible use of antibiotics.
For more information please refer to Ireland's National Action Plan for Antimicrobial Resistance on www.agriculture.gov.ie.
Legal category
POM
Packaging quantities
Cartons of 20 tubes
Mastiplan Summary of Product Characteristics
For Summary of Product Characteristics, first click on this link. Then scroll down to Documents section. Subsequently click on PDF version on line opposite Summary of Product Characteristics.