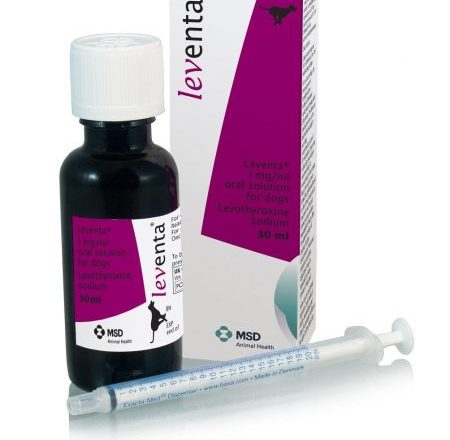 Leventa contains Levothyroxine sodium for oral use in dogs. Leventa may only be prescribed by your veterinary practitioner from whom advice should be sought.
Leventa is a clear, slight reddish coloured solution. Each ml contains:- Active substance: Levothyroxine sodium (as multihydrate) 1 mg (equivalent to 0.97 mg levothyroxine).
Excipient: Ethanol 15% v/v.Leventa is indicated for the treatment of hypothyroidism in dogs. For uses, dosage, contra-indications and warnings please consult product leaflet. Further information is available on request. Use medicines responsibly.
Legal Category
POM
Packaging Quantities
30 ml amber glass bottle with a transparent LDPE insert and with a white HDPE child-resistant cap with tamper-proof closure in a printed carton.A 1 ml oral syringe graduated in 0.05 ml increments is supplied with the product.Pack sizes: 1 x 30 ml
Leventa Summary of Product Characteristics
For Summary of Product Characteristics click on this link.