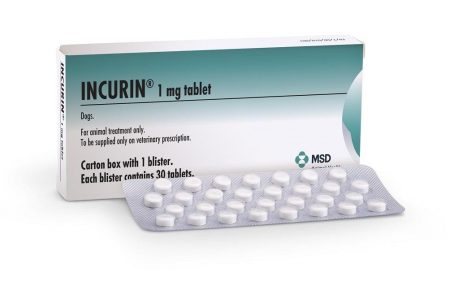 An oral tablet containing oestriol for use in female dogs. This product may only be prescribed by your local veterinary practitioner from whom advice should be sought.
Incurin is for the treatment of hormone-dependent urinary incontinence due to sphincter mechanism incompetence in ovariohysterectomised bitches. Scored tablets for oral administration. Each tablet of Incurin contains 1 mg Estriol PhEur.
For uses, dosage, contra-indications and warnings please consult product leaflet. Further information is available on request. Use medicines responsibly.
Legal Category
POM
Packaging Quantities
Blister packs of 30 tablets.
Incurin Summary of Product Characteristics
For Summary of Product Characteristics click on this link.