Tetanus Antitoxin Behring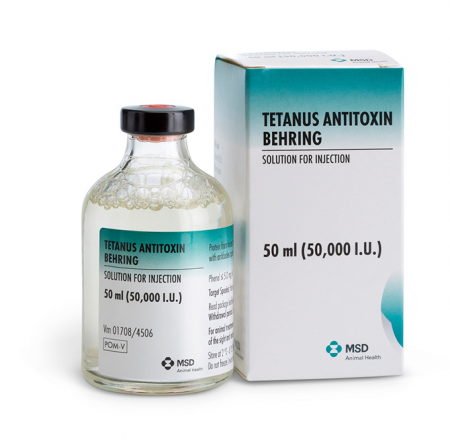 An anti-serum against Clostridium tetani for use in horses, sheep and dogs. This product may only be prescribe by your local veterinary practitioner from whom advice must be sought.
Product Information for Vets
Tetanus Antitoxin Behring contains 1000 I.U. antibodies against tetanus per ml. Phenol ≤ 5.0 mg is added as a preservative.
For uses, dosage, contra-indications and warnings please consult product leaflet. Further information is available on request. Use medicines responsibly.
Legal Category
POM
Packaging Quantities
50 ml injection bottles made of moulded glass of glass type II according to PhEur sealed with a chlorobutyl rubber stopper of rubber type I according to PhEur and an aluminium crimp cap.
Datasheet
For Summary of Product Characteristics, first click on this link. Then scroll down to Documents section. Subsequently click on PDF version on line opposite Summary of Product Characteristics.