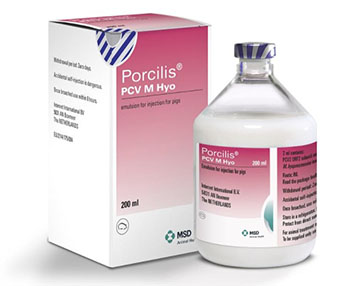 Porcilis PCV M Hyo is a combined subunit / inactivated vaccine against Porcine PCV2 and Mycoplasma hyopneumoniae.
Product Information for Veterinary Healthcare Professionals
Porcilis PCV M Hyo may only be prescribed by your veterinary practitioner for animals under his/her care. Advice should be sought from your prescriber prior to use. Further information is available on request. Use medicines responsibly.
Legal category
POM
Packaging quantities
Cardboard boxes with either 1 or 10 PET vials of 20, 50, 100, 200 or 500 ml.
Not all pack sizes may be marketed.
Datasheet
For Summary of Product Characteristics, please click on this link.