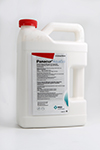 A broad spectrum anthelmintic for the treatment of pigs infected with immature and mature stages of nematodes of the gastro-intestinal and respiratory tracts.
White to off-white oral suspension for use in drinking water as a broad spectrum anthelmintic for the treatment and control of gastro-intestinal nematodes in pigs infected with:
– Ascaris suum (adult, intestinal and migrating larval stages)
– Oesophagostomum spp. (adult stages)
– Trichuris suis (adult stages).
For uses, dosage, contra-indications and warnings please consult product leaflet. Further information is available on request. Use medicines responsibly.
Legal category
POM
Packaging Quantities
1 litre and 4 litre HDPE containers with pulp board/aluminium/polyester/MDPE seal closed with child-resistant polypropylene screw cap. Not all pack sizes may be marketed
Datasheet
For Summary of Product Characteristics, please click on this link.