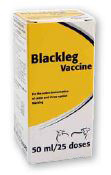 Inactivated Blackleg vaccine for cattle and sheep.
Blackleg Vaccine contains formalin killed cells and purified formol toxoid of strains of Clostridium chauvoei in buffered physiological saline, adsorbed onto aluminium hydroxide. It is an inactivated vaccine to stimulate active immunity against Blackleg (Clostridium chauvoei infection) in cattle and sheep. Immunity is expected two weeks after the second dose of vaccine in the primary course. Blackleg vaccine may only be supplied by your veterinary practitioner for animals under his/her care, by a pharmacist from a pharmacy or by a licensed merchant from registered premises. For uses, dosage, contra-indications and warnings please consult your veterinary supplier or the Summary of Product Characteristics (SPC). Further information is available on request. Use medicines responsibly.

Legal Category:
LM
Packaging quantities
Carton containing a 50 ml polyethylene multidose bottle, closed with a combination seal.
Blackleg Vaccine Summary of Product Characteristics (SPC)
For Summary of Product Characteristics, first click on this link. Then scroll down to Documents section. Subsequently click on PDF version on line opposite Summary of Product Characteristics.